Domestic Drinking Water
Order A Water Test Online Today!
Testing Domestic Water and Private Wells
We test domestic water supplies and private drinking water wells to our standard list of tests and/or to customer requirements. ALS Life Sciences advise that private well owners test their drinking water supply annually, particularly after a spell of bad weather to identify if treatment is required.
In the interest of keeping costs down, we have 4 strategically located sites around Ireland where you can drop off your water samples and we therefore do not charge for shipping.  If this is not convenient, sample bottles can also be returned to our Clonmel lab by Swiftpost at your cost.
Domestic Drinking Water Analysis
Our standard list of tests are as detailed in the table below:-
Domestic Drinking Water Tests include:
pH
Total Hardness mg/l as CaCO3 mg/L
Nitrates mg/L as NO3
Nitrite mg/l NO2
Ammonia mg/l NH3N
Total Iron ug/L as Fe
Total Manganese ug/L as Mn
Chloride mg/l
Conductivity µS/cm @200C
Coliforms cfu/100mls
Escherichia coli (E.coli)
Enterococci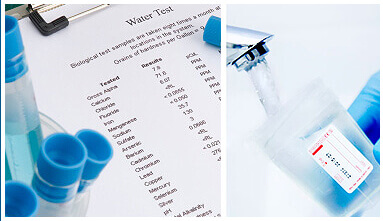 Extra tests include but are not limited to the Langlier index (Identifies corrosive level or scale forming water), Fluoride, Copper, Heavy metals, Clostridium perfringens. Additional tests as required by local County Councils are also available.
Why should I test my drinking water well?
Proper maintenance of wells is important to avoid illness.
Contaminated water may not look cloudy, it may not smell differently or taste strange but the water that you are drinking could still carry a health risk. Regular testing is therefore advised to identify if there is contamination present and if treatment is necessary. This applies to users of private wells, hotels, nurseries, schools, colleges, Creches, fruit and veg providers, hospitals, golf clubs and any other situation where water is stored prior to drinking.